FarmQA to Participate in Plug and Play North Dakota's Agtech Program. Click here to learn more about the Agtech Program.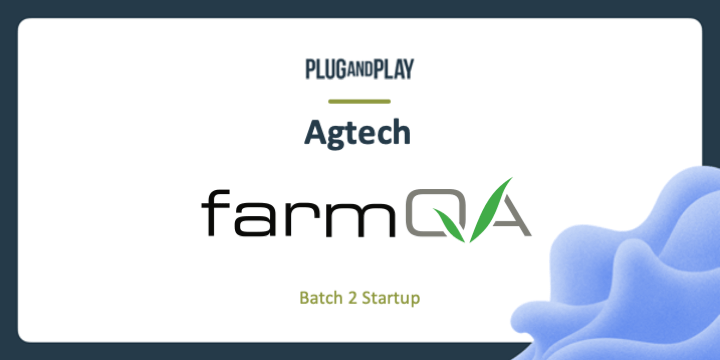 We're excited to share that FarmQA has been selected for the second batch of Plug and Play North Dakota's Agtech Program.
This program aims to facilitate opportunities for pilots, POCs, and new relationships between the selected batch startups and Plug and Play's global ecosystem. Founding partners of the program include Microsoft, Bremer Bank, CHS, and OCP Group. Plug and Play North Dakota made the announcement Oct. 30.
The fourteen startups, chosen by partners of the program, represent a variety of new agriculture-specific innovations focused on soil sensing and analysis, field monitoring, precision farming, automation, and sustainability.
In addition to FarmQA, the startups participating in the program are:
AgroCares, AgTools Inc., eAgronom, EarthSense, Farm Dog, Insight Sensing, MycoNourishPro Power Ag, Provender Technologies, Shepherd Farming, Small Robot Company, SpaceSense, and Spornado.
About Plug and Play
Headquartered in Silicon Valley, Plug and Play is a global innovation platform with accelerator programs, corporate innovation services and an in-house VC to make technological advancement progress faster than ever before. Since inception in 2006, our programs have expanded worldwide to include a presence in over 25 locations globally giving startups the necessary resources to succeed in Silicon Valley and beyond. With over 10,000 startups and 400 official corporate partners, we have created the ultimate startup ecosystem in many industries. Companies in our community have raised over $9 billion in funding, with successful portfolio exits including Danger, Dropbox, Lending Club, PayPal, Rappi, and most recently Honey. For more information, visit www.plugandplaytechcenter.com.
---
Sign up for updates on FarmQA solutions