FarmQA Scouting
FarmQA makes it easy to scout any field and any crop
FarmQA Scouting is your digital agronomy assistant for crop and field scouting. Scouting's flexible scouting templates allow the creation of the perfect scouting form to match your precision agriculture operation.
Increase the effectiveness of your crop scouting for row crops as well as specialty crops like fruits, vegetables, hops, or even grapes. There are no constraints because FarmQA Scouting is adaptable.
Sign Up for a 14-day Free Trial Download FarmQA Scouting Now!
4.9 34
Scouting your fields is an excellent way of keeping track of developments such as pest, disease, and weed infestation, along with growth stages, and overall health of your crop. With FarmQA Scouting, you can easily track all of the things you want to track and nothing more. Additionally, your records are safe with us and we never share your data with others.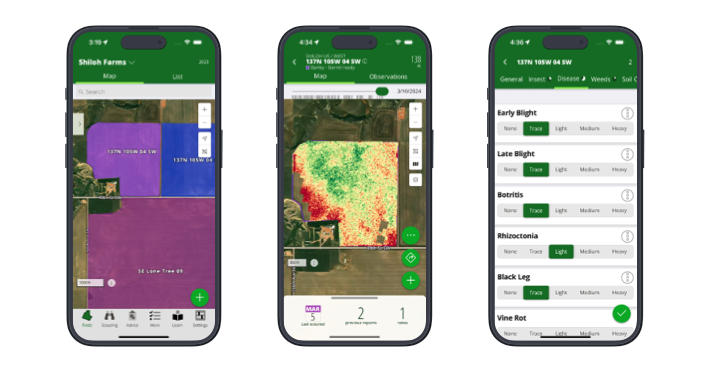 Crop-specific scouting
Tired of inflexible scouting apps that force you to page through 1000's of conditions that don't apply to your crops? Design your own scouting form with our form designer. Our scouting form designer provides an easy to use interface allowing you to quickly create the scouting form you need for any crop.
An innovative live preview shows you what the scout will see as you make changes.
You can define templates for each different crop you grow and even specify different templates for specific problem fields. Whatever you want, you can do with our flexible crop-specific scouting designer.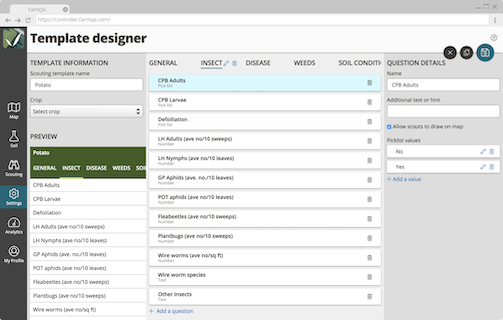 Generate PDF reports
FarmQA Scouting has a complete reporting solution for your operation. PDF report generation allows your farmers to see at a glance the situation and send that report to your growers. All of your annotations and photos are included.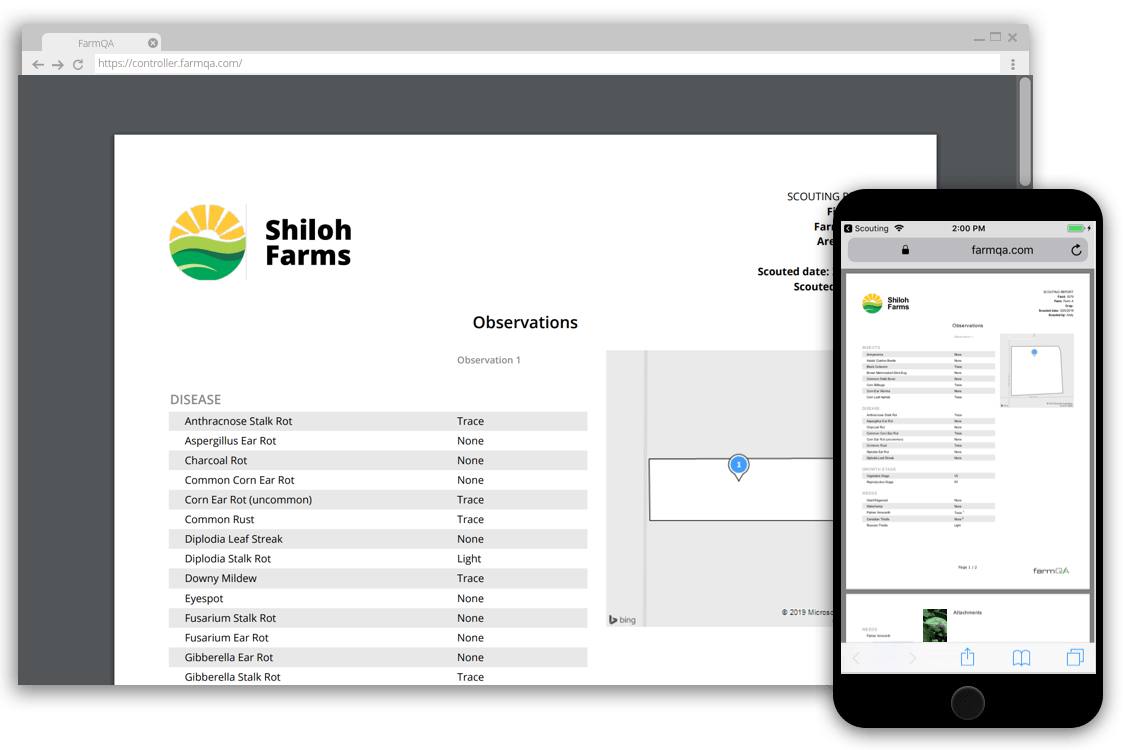 Capture photo and map annotations
FarmQA Scouting takes geo-tagged photos, attaches them to the scouting report and makes them available for review in FarmQA on the web, our cloud based agronomy platform.
Need to know precisely where an issue is? Precisely annotate the extent of the issue and its exact location. Our draw on map capability allows you to annotate the where a field issue is and the extent issue. This allows you to better communicate to your growers where the issues are in the field for quick resolution.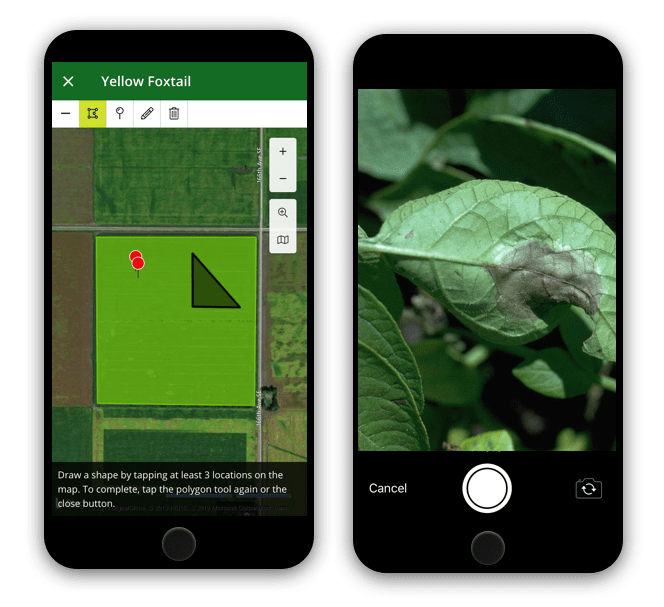 Efficient data collection
Optimized for touch and mobile, Scouting provides an innovative data collection experience so you can quickly and efficiently record crop conditions.
Replace pen and paper scouting with our innovative app making you more efficient.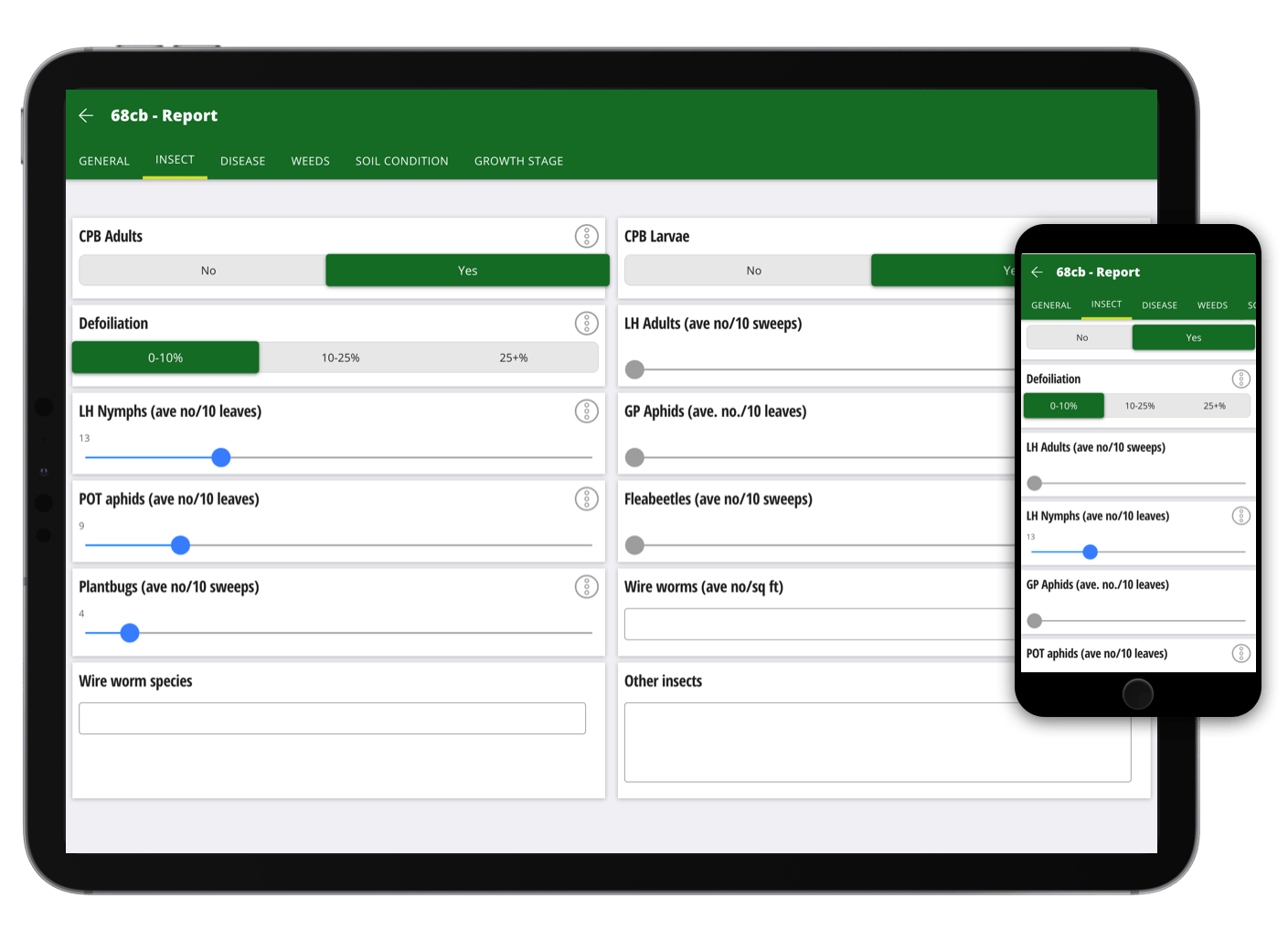 Scout with tasks
FarmQA's task management integrated with its scouting platform offers agronomists a powerful solution for streamlined operations and enhanced crop management. By combining these two systems, efficiently allocate tasks and monitor progress while seamlessly integrating valuable scouting data.
Learn more about tasks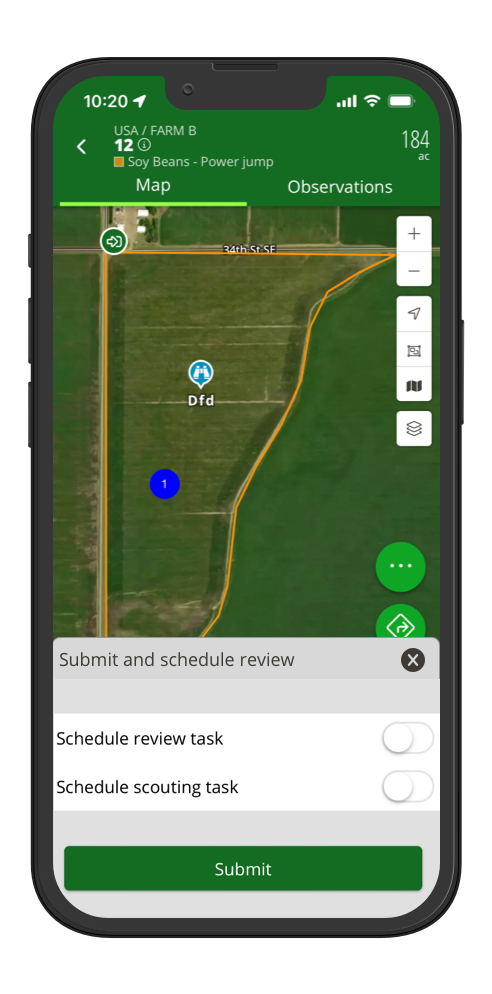 Create and import unlimited fields
Fields can be created and assigned crops within FarmQA Scouting. Easily get up and running with minimal effort. The fields are immediately available within FarmQA Controller for the current growing season.
Already have shape files for all of your fields? No problem. Just send them to us and we'll get them imported.
Each crop or variety can be color coded and displayed on the map, letting you know instantly what is in a field.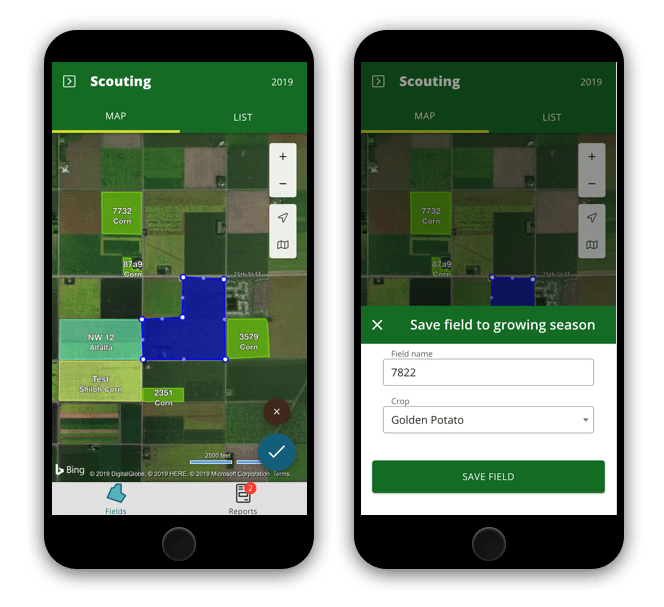 Scout offline
Because not all of your fields are within the range of a cell tower, FarmQA Scouting caches information about your fields and your scouting templates on the mobile device. This allows you to start scouting a remote field and submit the report later when you're back online.
Directed scouting
Consistently scout problem areas with FarmQA's directed crop and field scouting capability. Set your locations, associate reports with locations and track problem spots across growing seasons. One of the many ways that FarmQA helps you do more during the growing season.
Directions to fields
Mark your field entrances, see the distance to any of your fields, and get routing to your fields.
View distances to fields at a glance and easily use your phone's mapping tools to get directions. This is great for seasonal scouts who are not familiar with an area so they can easily go scout fields.
Merge observations from multiple scouts
Sending multiple scouts into a field is no problem. FarmQA Scouting will automatically merge scouting reports from multiple scouts in the same field into a single consolidated report.
Manage multiple farms
Partition your growers and their fields into seperate farms using our organization designer. We support multiple levels not just one each with their own fields and reports.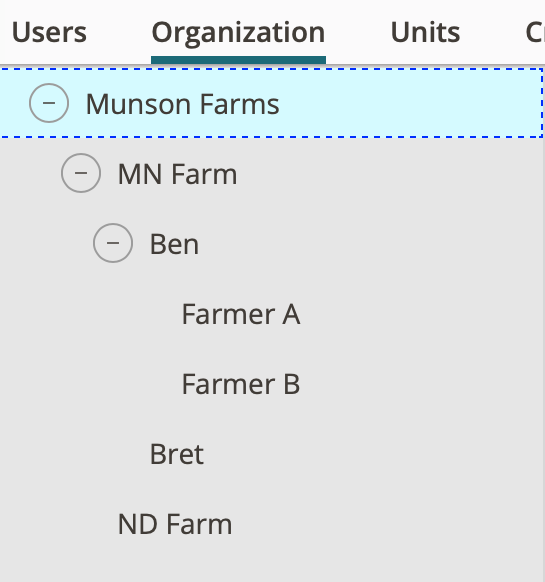 Track unlimited acreage
FarmQA doesn't charge by the acre. FarmQA pricing is based on users and their roles not on the acreage we help you manage.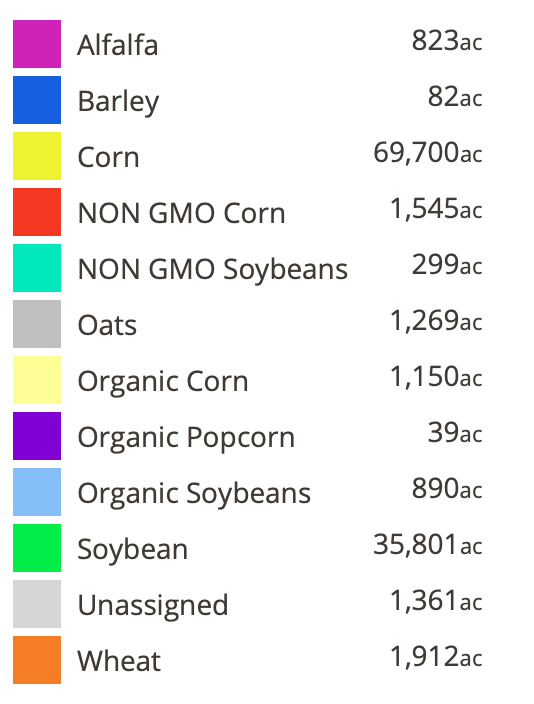 Specializing in specialty crops
Here is a sample of the crops monitored by FarmQA Scouting
Apple
Avocado
Grass
Hemp
Hops
Pineapple
Potato
Rice
Strawberry
Sugar Beet
Sunflower
Walnut
Wine grapes
Learn more about supported crops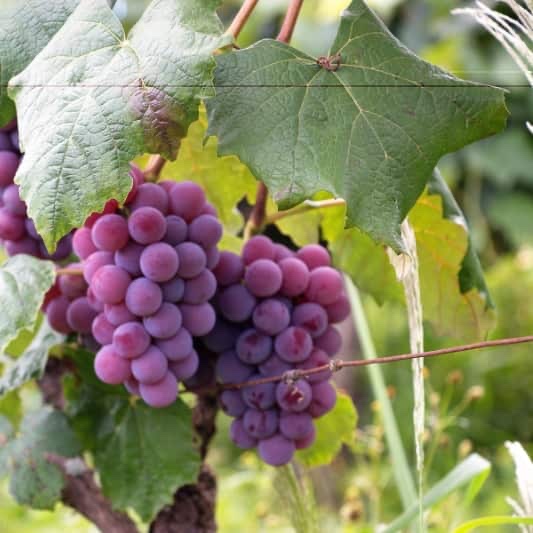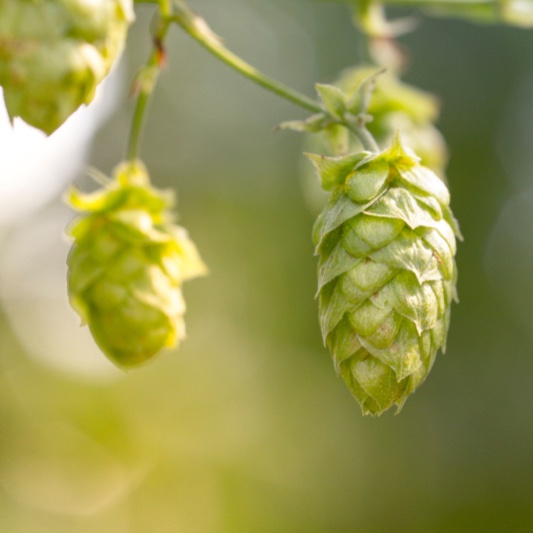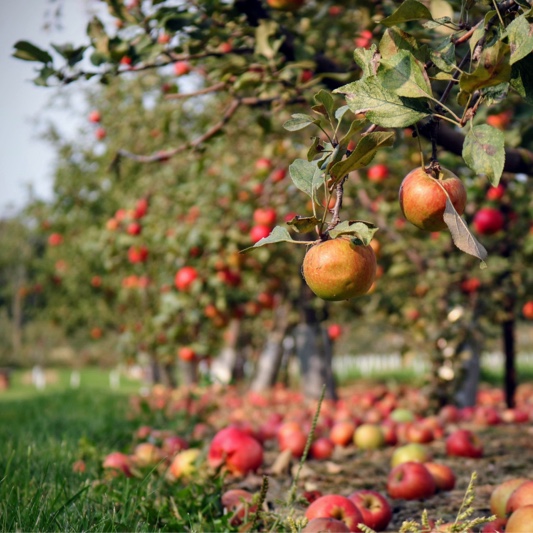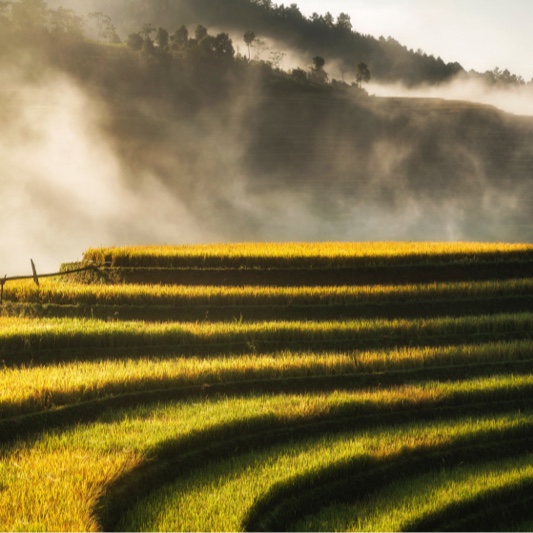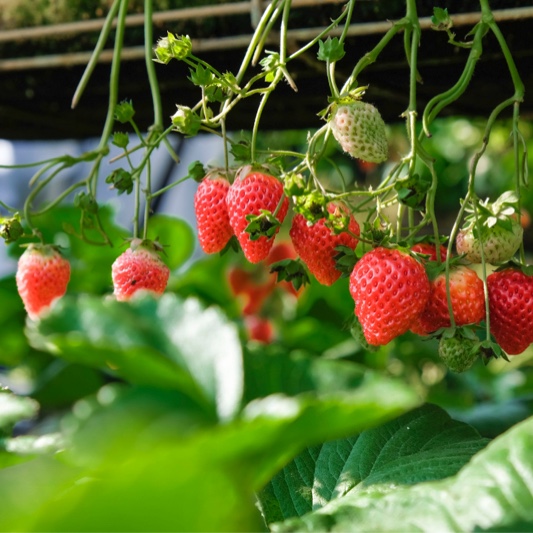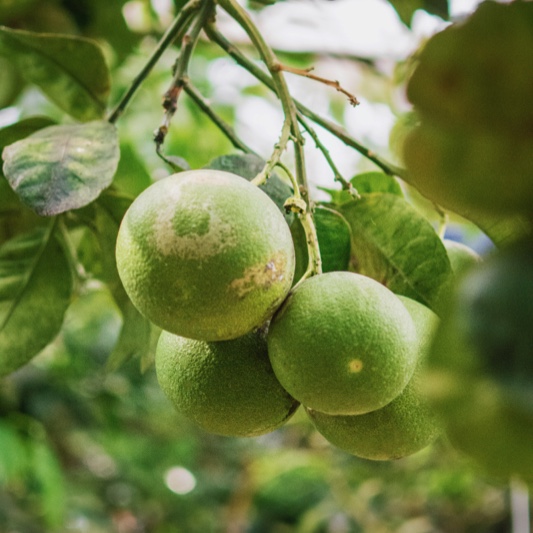 One on one support
We offer one on one support for all of our customers. We also like to think that we're very responsive to customer requests. Our turnaround for small feature requests and issues is generally within a week maybe longer if the problem is a bit more tricky.
Ready to demo FarmQA Scouting?
Sign up for a free 14-day trial of FarmQA Scouting and see what FarmQA can do for you and your crop consulting business.