Summer 2021 Feature Update

We have been hard at work since spring! Below are a few of the new features you will now see in FarmQA. Links to additional information or support articles are provided where available.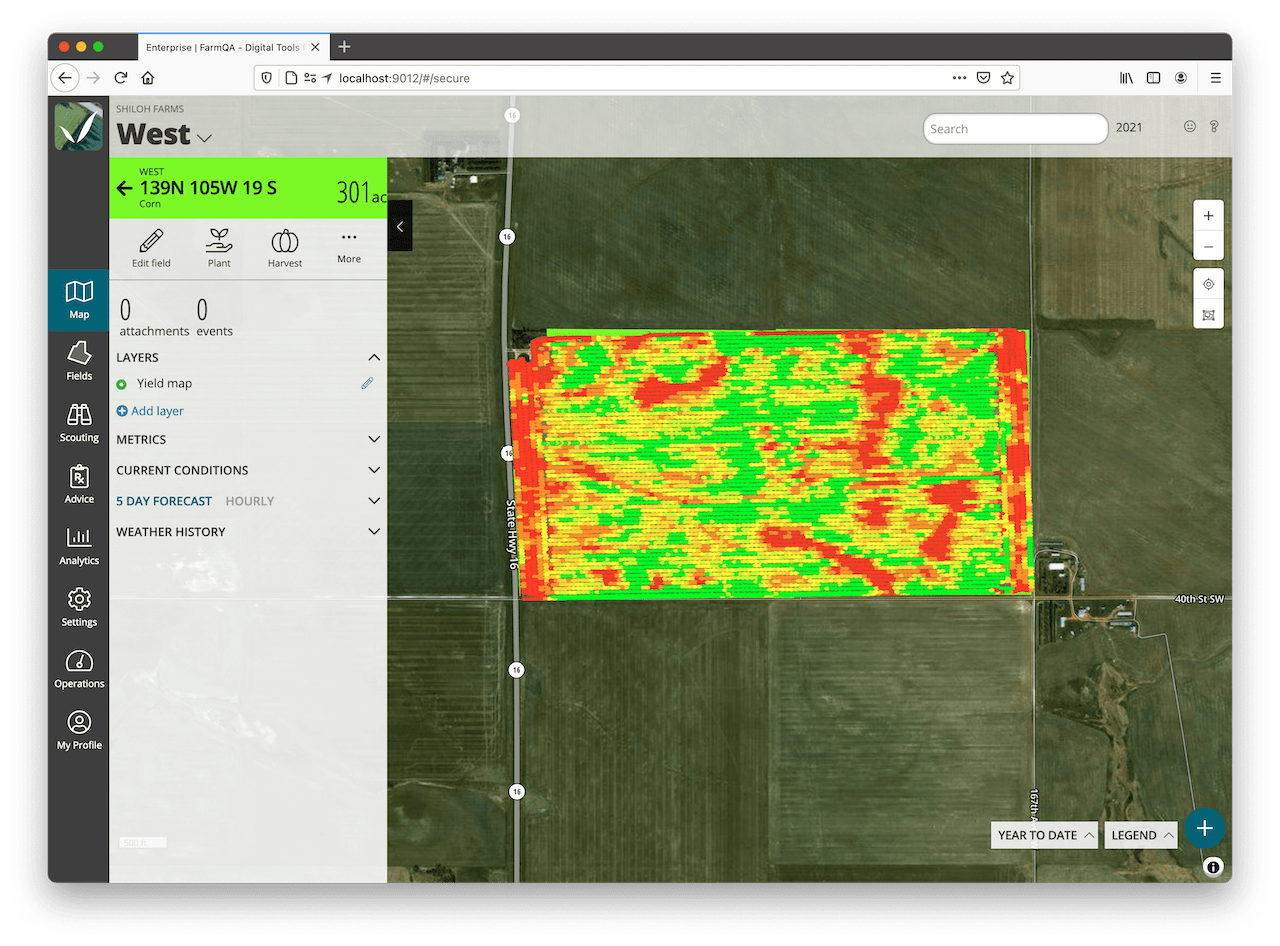 We've made great progress on adding map layers in the product to allow you to upload and view imagery such as NDVI, Sampling locations, Sampling data, slope, and yield information on the web and on mobile. Mobile is particularly exciting because the layer data is available offline as well as online so even if you have poor connectivity, the map layers will be there. Learn more.
How To Articles:
We also have a new integration with Planet Imagery. With our Planet imagery, you can easily get daily satellite updates on all of your important fields. Planet imagery is integrated into our Map layer capabilities and is available offline as well as online for mobile and the web. Learn more.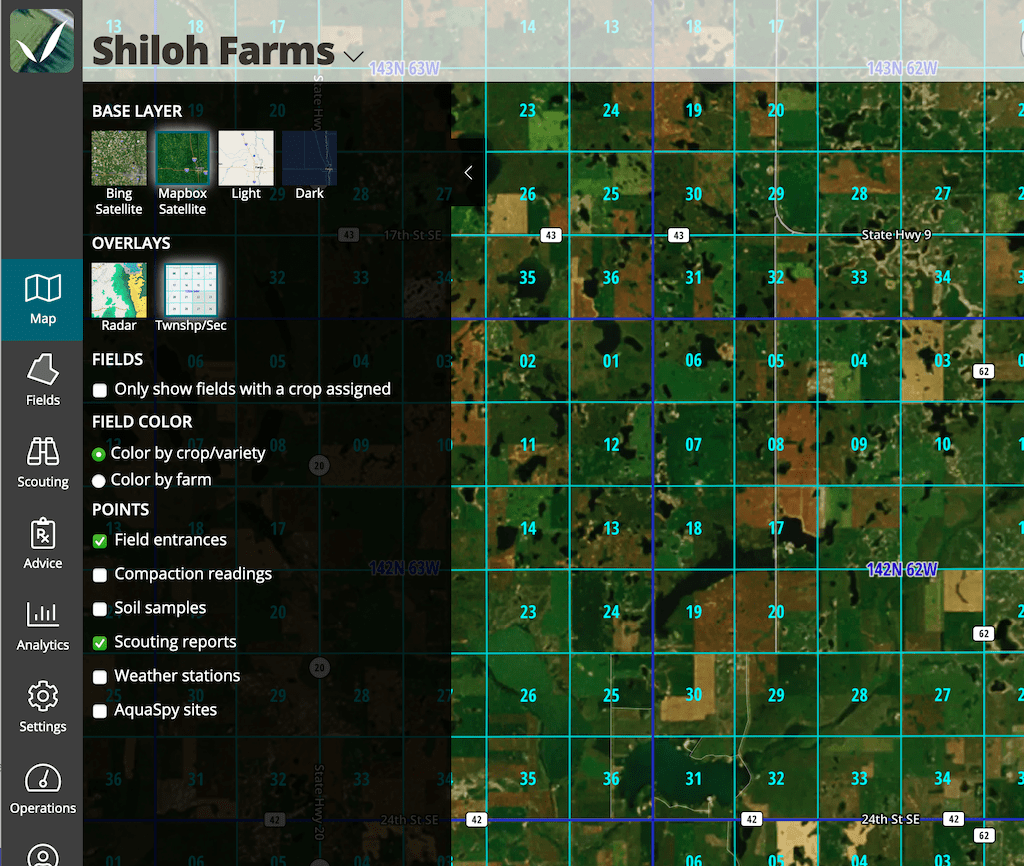 For those in the United States (but not the original 13 states or Texas), we have added the ability to see Township and section lines and labels. Learn more.
How to Articles: Township Section Overlay
Recommendations Enhancements
Multiple labels for products — We can now support multiple labels for a defined product. This is useful so that you can have a "main" label as well as a supplemental label. The supplemental label is simply attached to the product. The main label is still specified the same, but now when viewing the recommendation, all of the attachments are available to download as well.
Product list across Recommendations — When selecting multiple recommendations to send to a grower, the product totals are displayed as either the first or last page for all of the recommendations in the report and are based on the rates and the sizes of the fields in the recommendations.
Partial field recommendation and field notes — We now support the ability to specify only a part of the field in a recommendation. This is a key feature that supports better sustainability and decreases input costs. You can also provide field specific application notes.
Ability to link and unlink scouting and recommendations — On the web, while viewing a recommendation or a scouting report, you can now link the scouting and recommendations easily as well as unlink.
Integration with browser share — If you have a browser that supports a native share function, you can now quickly share a scouting report or recommendation without downloading the PDF and attaching it. If you have a browser that doesn't support it, we'll simply start an email with the hyperlink to the report.
Product total calculations for container size unit — We now have container sized units for rates in ac/jug, ac/case, ac/bag, and tonnes/ac. If images are to be supported within a section, just list them at the top of the section. They will be formatted to show to either the right or the left of the content.
Other new capabilities
Split fields: We can now split fields on the web.
Field list: We have additional filtering options and can now see the days after planted
Interactive scouting map when viewing scouting reports on the web. We're also working on this for mobile.
Notable bug fixes
Canadian unit additions
Edit logo improvements
Performance improvements
Changed the offline display in mobile
We like to get input from our customers about ways to make FarmQA work better for you. Please email your feedback and suggestions to info@farmqa.com.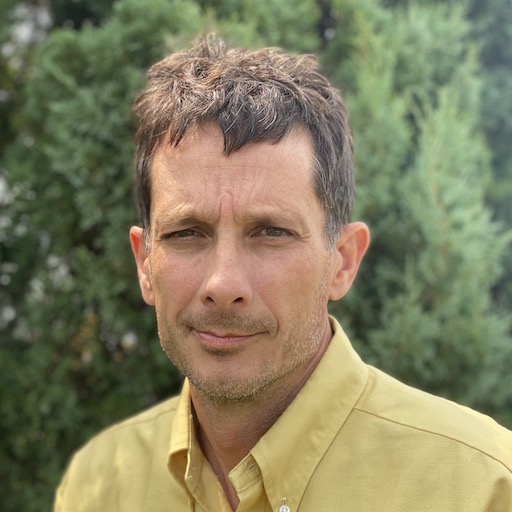 Brian Glaeske
Director of Product and User Experience
---
Sign up for updates on FarmQA solutions